Omakase in 2020 Summer
"夏陰 Natsukage – Shades of Summer"
We have created a special course meal that emphasizes seasonal Japanese ingredients, and is accompanied by beautiful crafts rooted in Japan's various regions. The recipes are bilingual in English and Japanese so you can easily incorporate them into your home, whether in Japan or overseas. In the first summer course, we will be introducing several beautiful crafts to complement the food: a Tokoname plate created with a technique unique to that region called Kaki-gara or "oyster shell," a Yamanaka lacquerware bowl with beautiful grain and pleasant texture, a Takaoka copperware tray and elegant modern wine glasses, a simple yet functional Edo Kiriko glass, and more.
1st dish
Pureed Corn Soup
Summer is the best season for corn. Corn at this time of the year is very sweet and tasty, so I would like to recommend a simple recipe. At first, I made this soup with stock. However, I found out that the taste of corn stands out better with salt and water instead of stock. Therefore I continued to use this recipe. Seasonal ingredients always teach me that simple recipes are the best. It is not catchy or gorgeous, but this is a dish that surprises you with the taste of the ingredients themselves.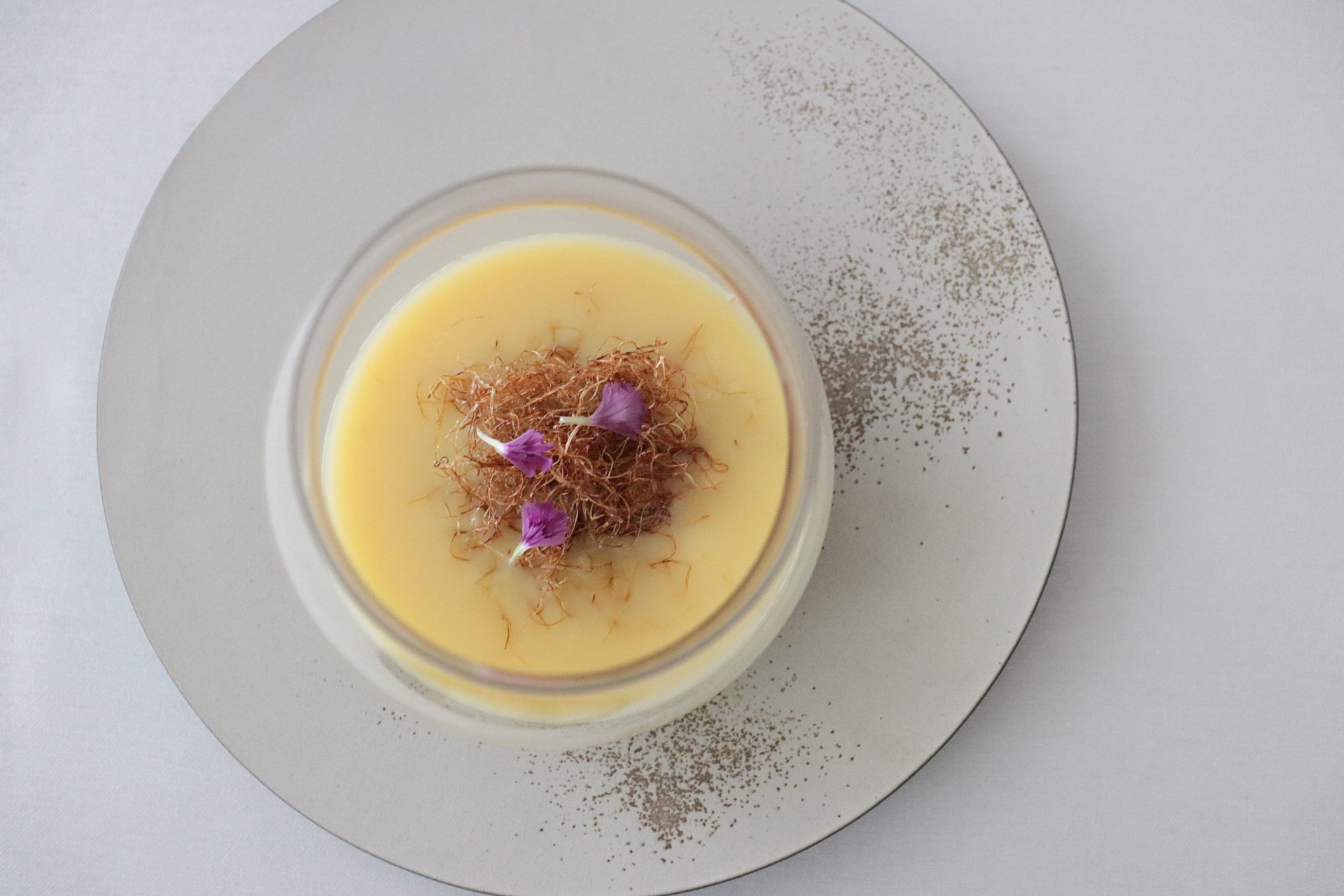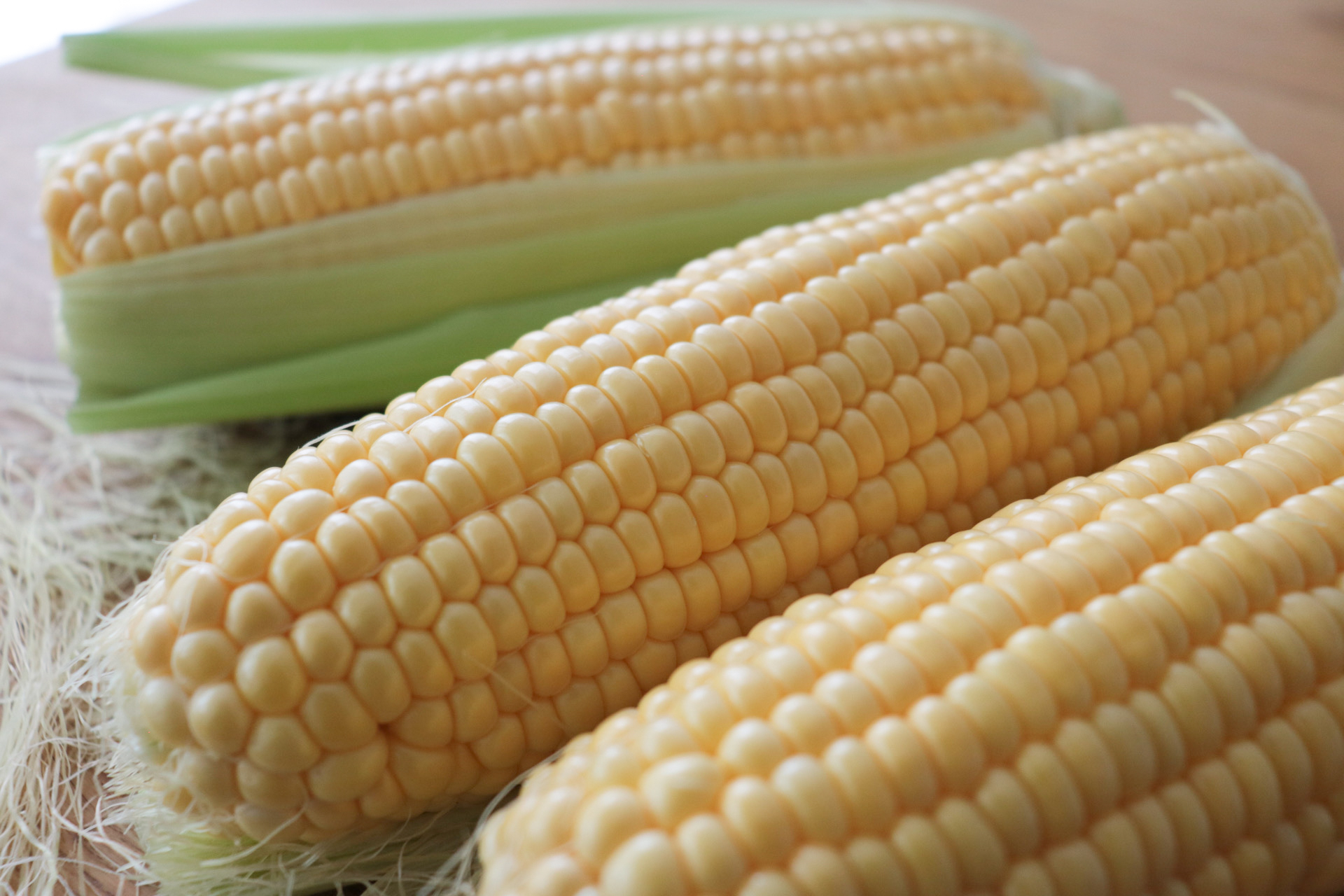 2nd dish
Cold Stuffed Cherry Tomatoes
For the second dish, I cooked cold stuffed tomatoes and somen noodles. I served the stuffed cherry tomatoes on top of a wooden container and garnished with real tomato leaves to create a dish that resembles a tomato field. I also used the fresh and beautifully colored skin of the cherry tomatoes as decoration. It is also recommended that you give a cooling impression by spraying water droplets just before serving. Cold somen noodles are placed on the second tier, and at the bottom, I placed the seasoned broth that I cooked the tomatoes with and made it into the dipping sauce for the somen noodles. Initially, I thought of seasoning the dashi broth with light soy sauce and mirin but decided to cook with only the dashi broth for this recipe. It tasted delicious because the "umami" flavor melted from the tomato and chicken. That is why I decided to season using only the main ingredients themselves. The dipping sauce for somen noodles is made of the broth that was used for cooking the tomatoes, with a little salt added. We often perspire a lot in summer, so it is better to season with a little bit of saltiness. First of all, enjoy a bite of the stuffed cherry tomato. Then, enjoy the somen noodles. When making this dish at home using a larger tomato, it won't take much time to stuff each tomato. In this case, please cook for a slightly longer time.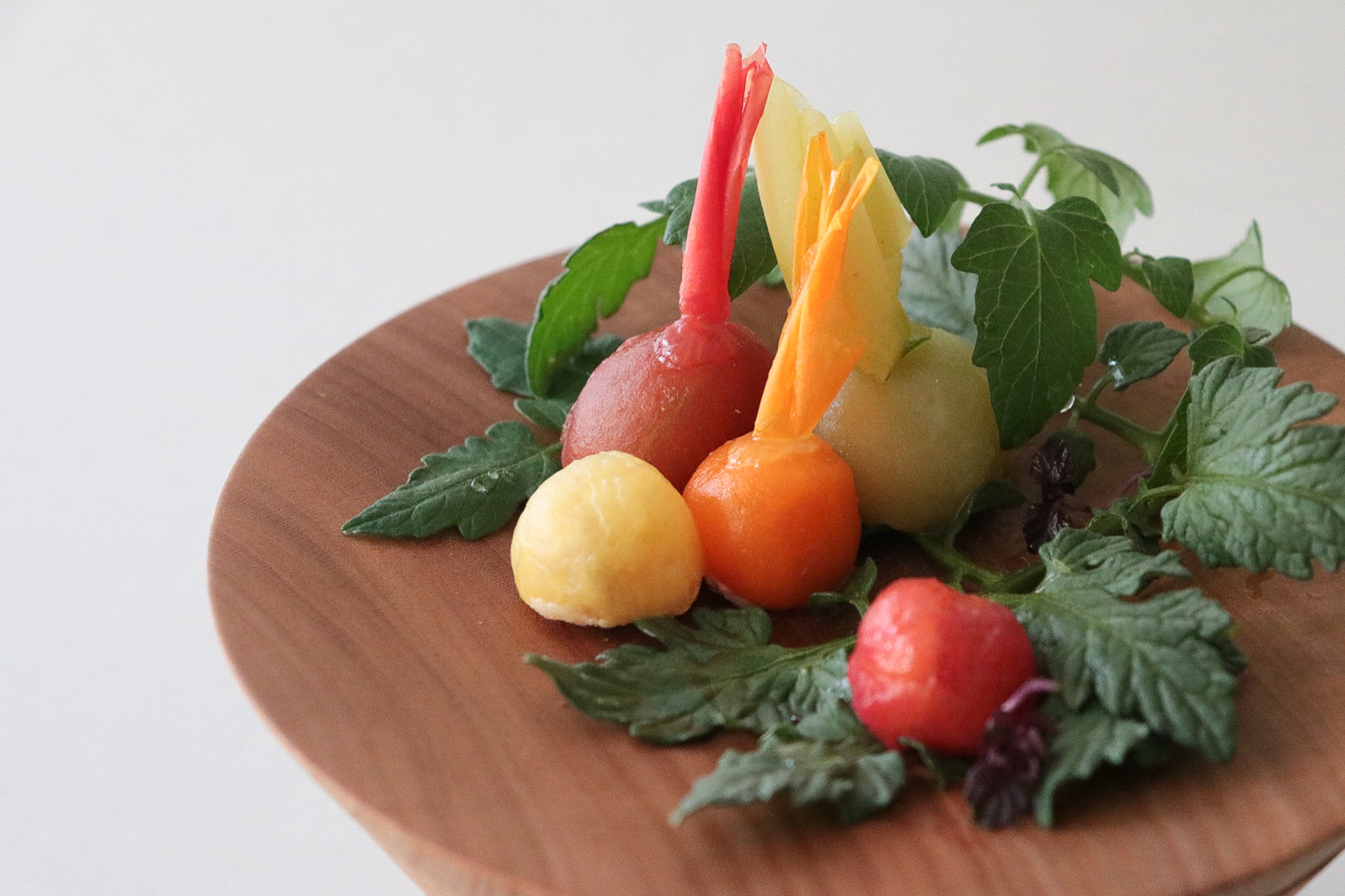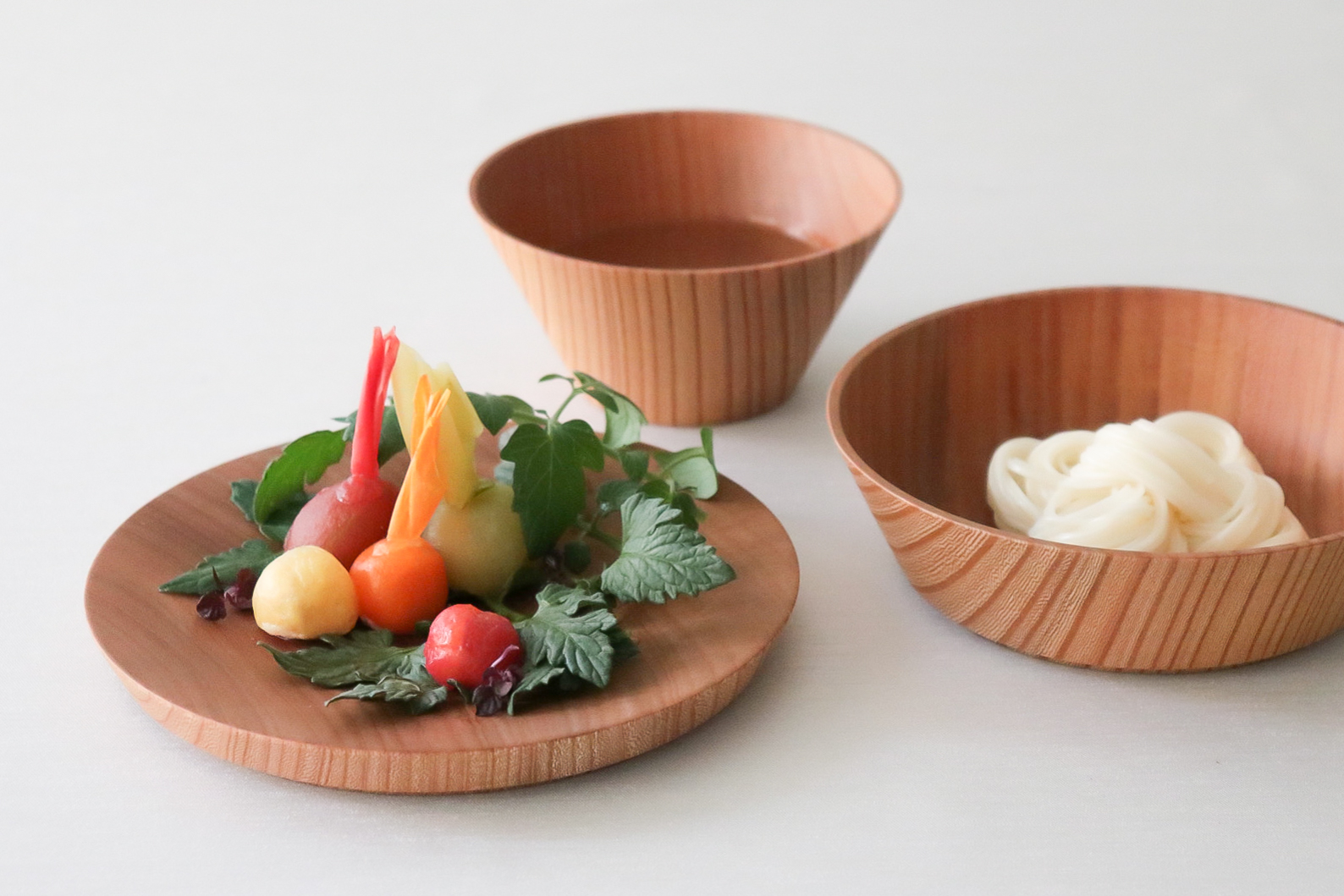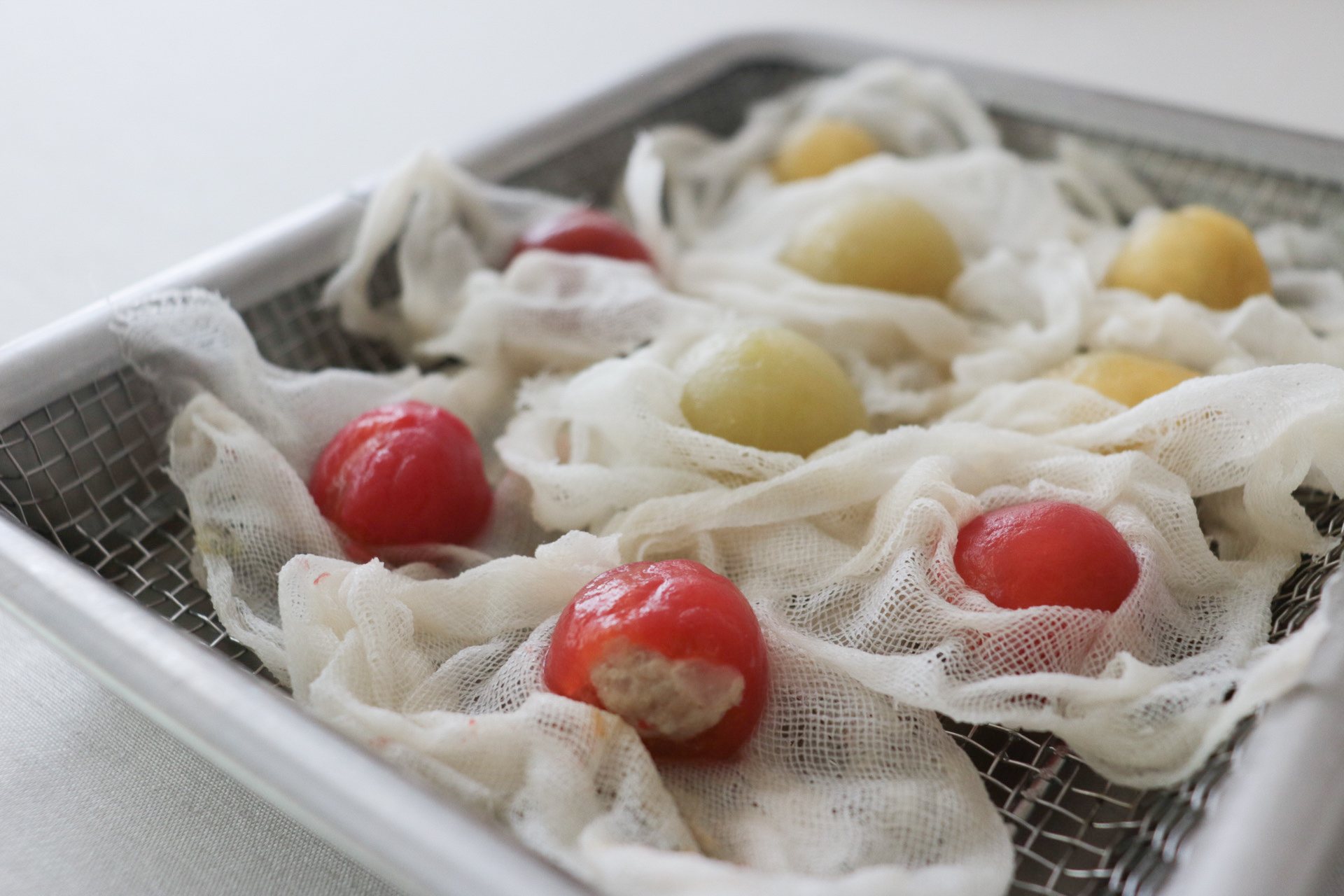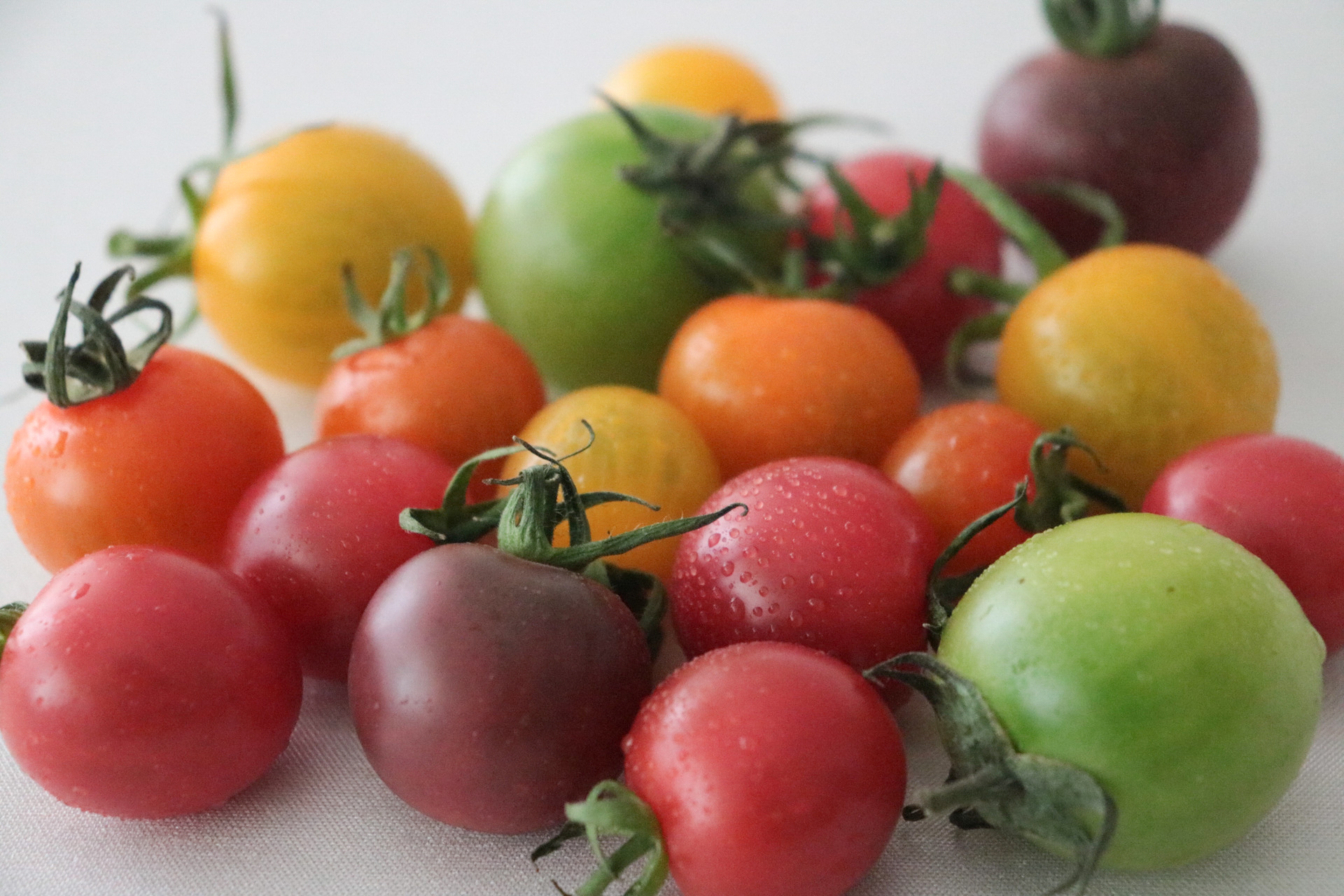 3rd dish
Seasonal fruits dressed with ground tofu and sesame
"This is the container that I want to use for summer cooking!" I thought to myself when I visited HULS Gallery Tokyo. Its cooling appearance makes it perfect for summer cooking. The sparkling water surface of the summer sea, and the bubbles of foaming waves… I wanted to match the dish with the roundness and translucent jade color of the vessel, which is reminiscent of muscat & delaware grapes. The thick dressing is made from gently drained tofu, poured on the fruits just before serving. To finish off, add thyme as garnish for a refreshing feeling.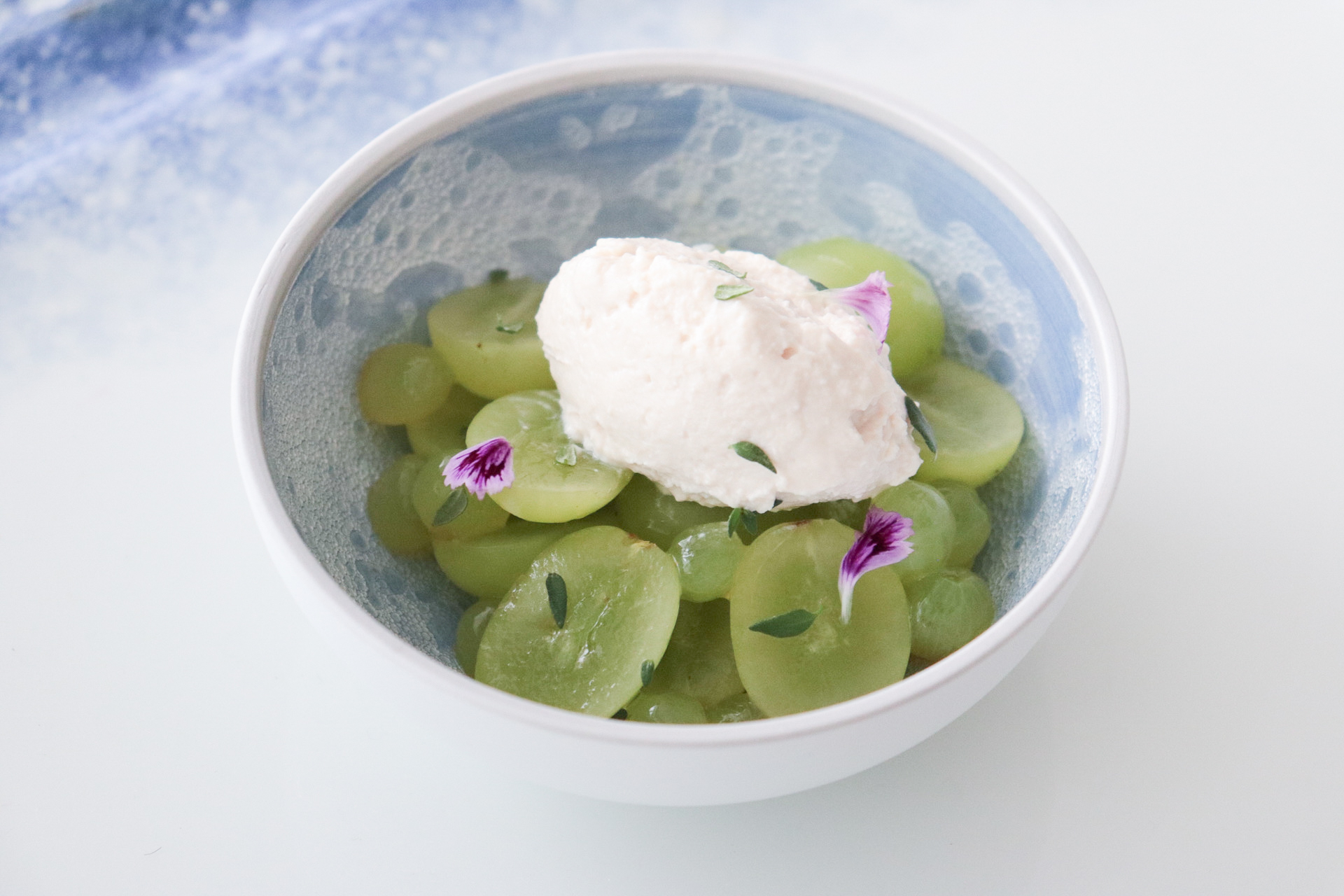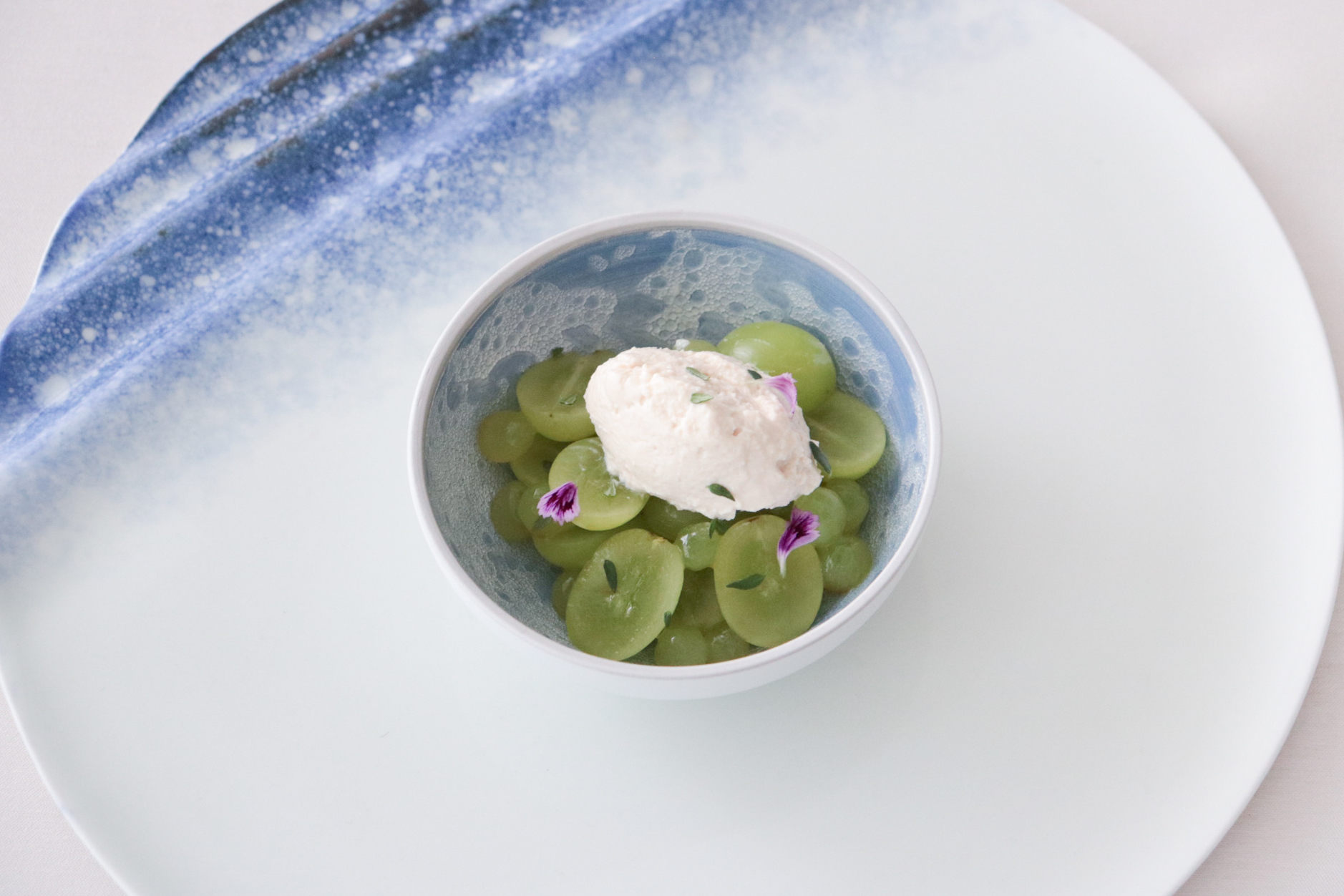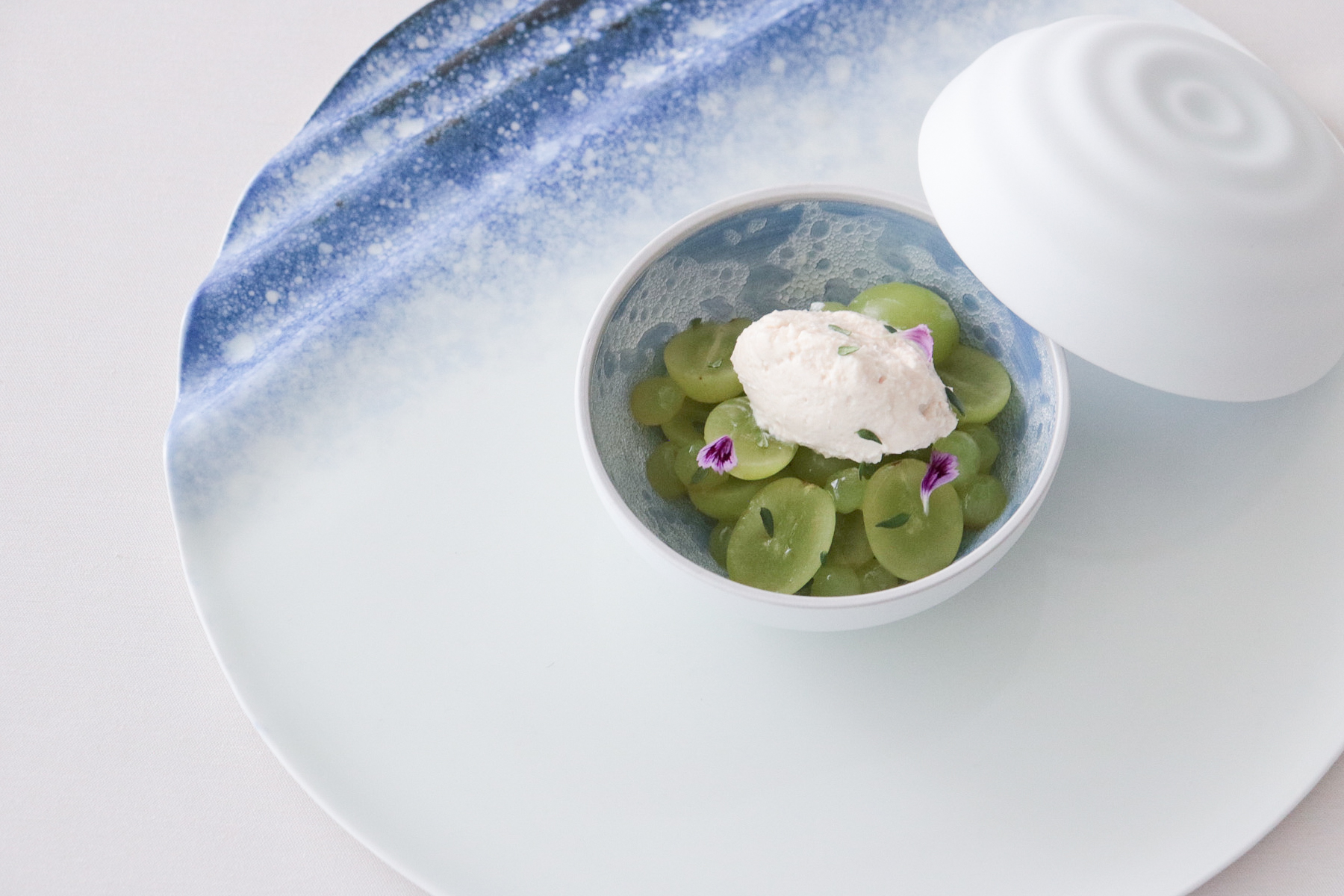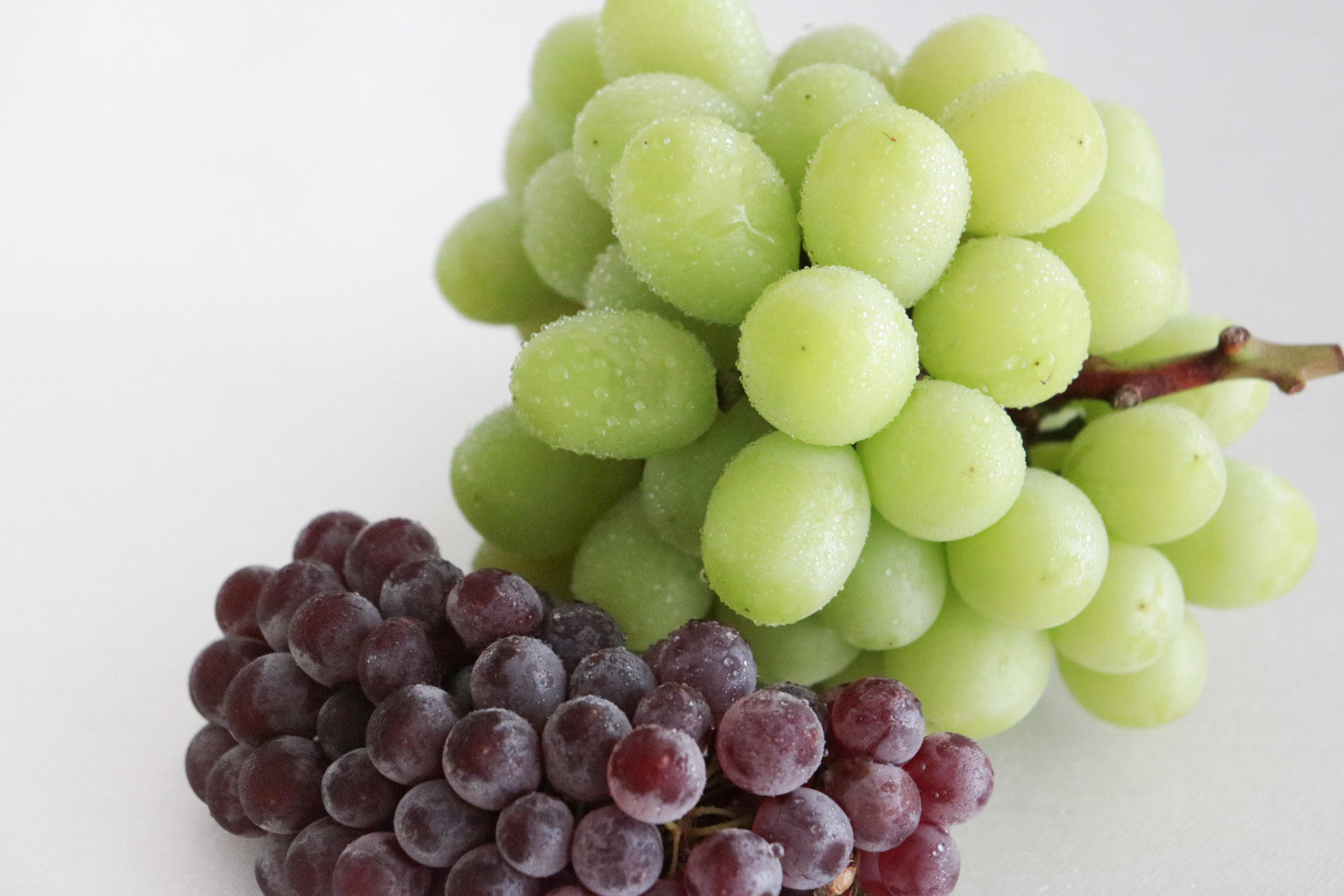 4th dish
Granité of red perilla
Shiso (perilla) has long been cultivated as a potherb in Japan. Shiso can be broadly classified into two types, "green shiso" and "red shiso." Green shiso is available all year round, making it easy to find. However, red shiso is harder to get, as it is only available during the short period from June to July. Therefore, I cannot help but feel the arrival of summer when I find red shiso in the market. During this season in Japan, we pickle umeboshi together with red shiso seasoned with salt and we also make red shiso juice drinks to prevent dehydration during hot summers. For the third dish, I prepared a granité made of red shiso juice. When you drink the juice as it is, add plenty of ice and enjoy.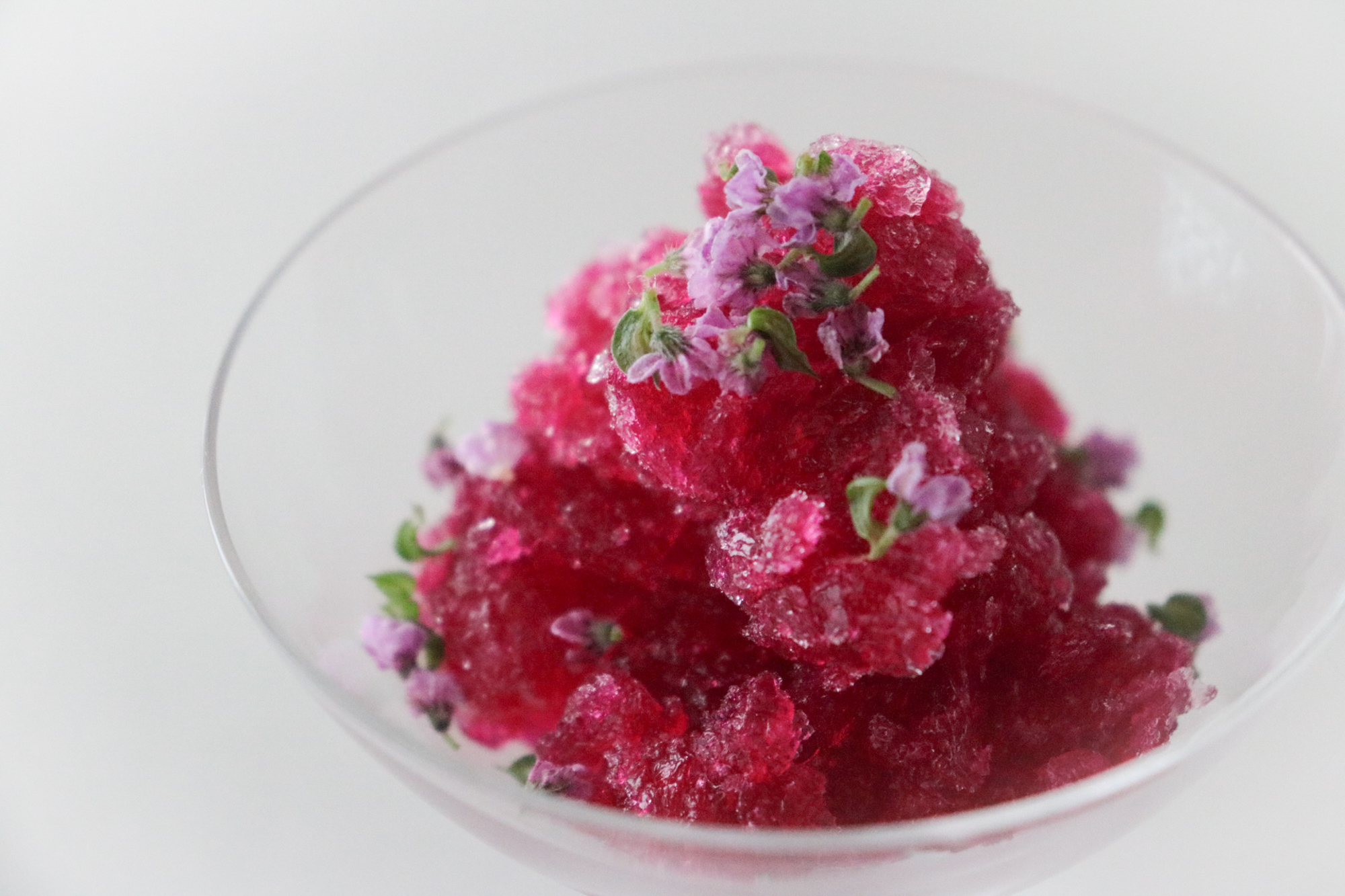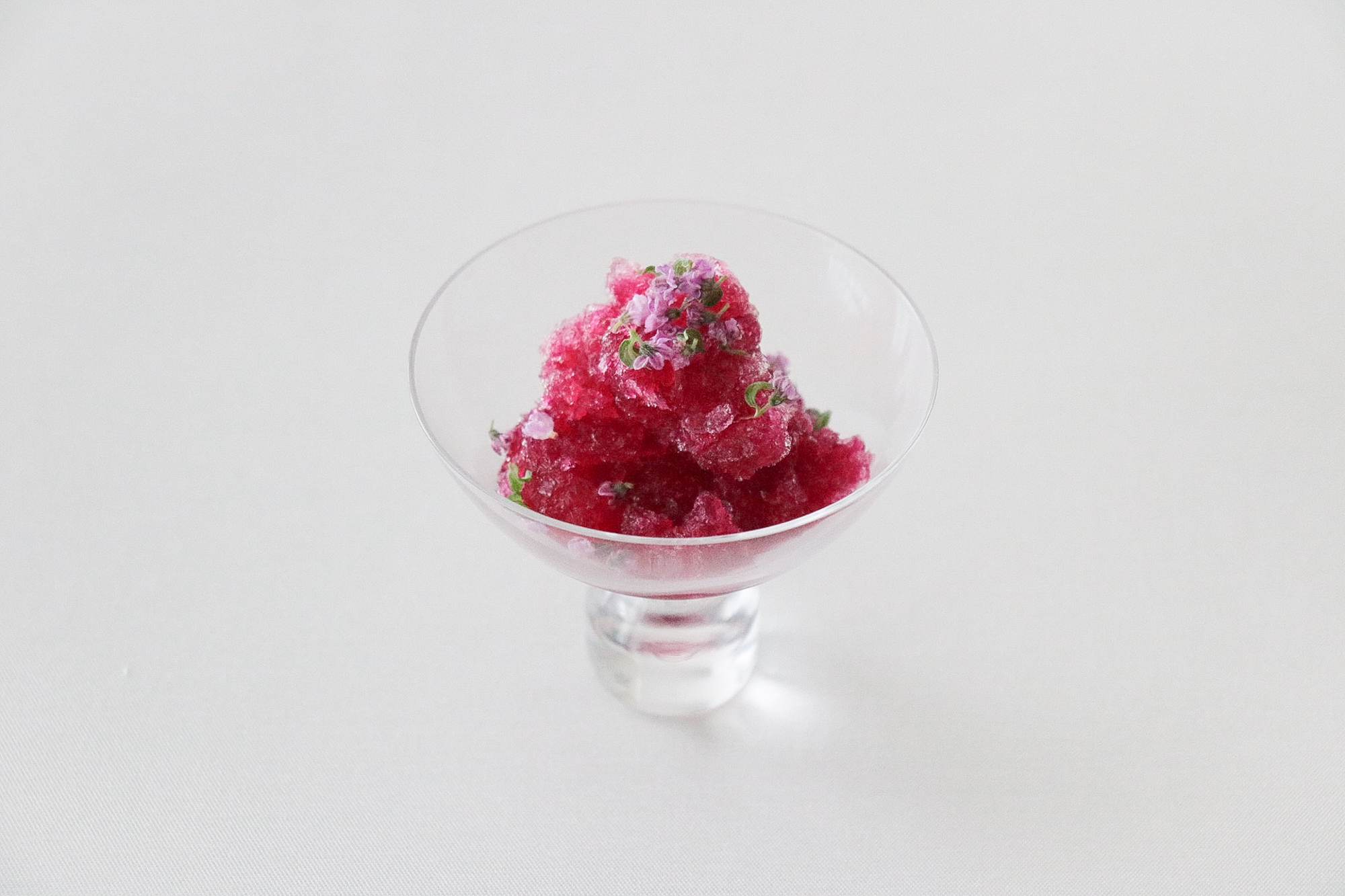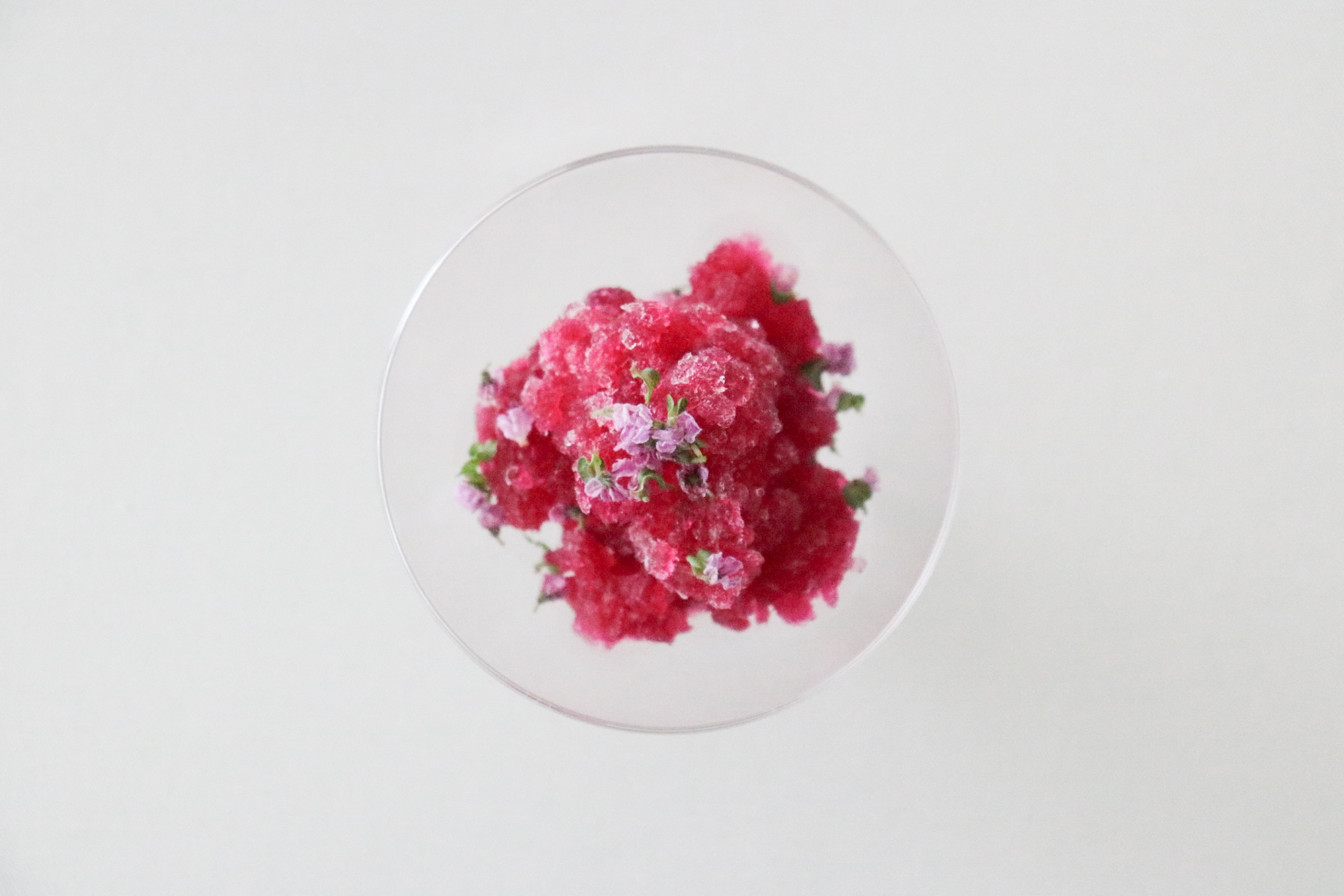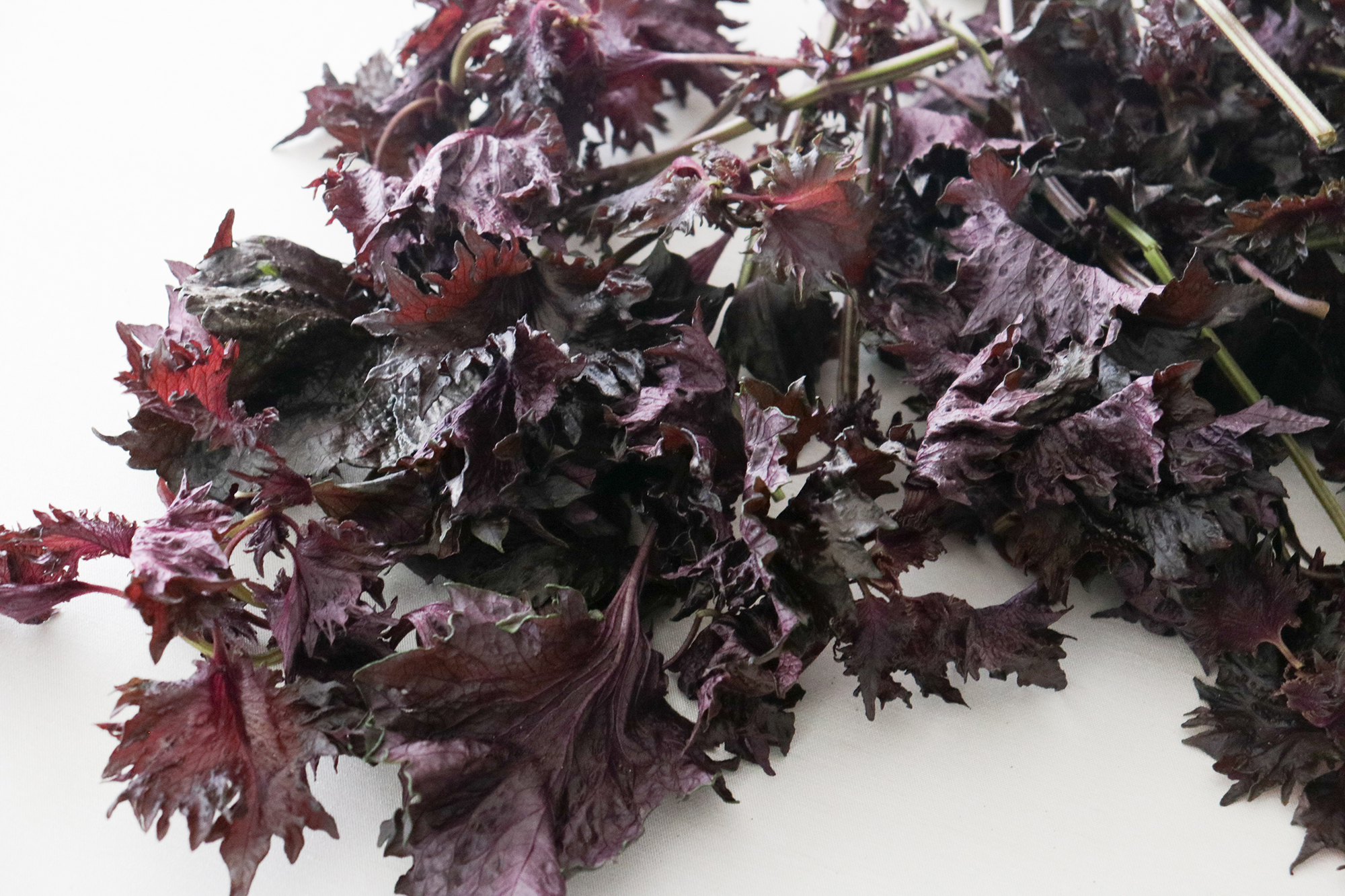 Main dish / Seasonal fish dish
Deep-fried young ayu with cucumber and melon sauce
Young ayu (sweetfish) marks the arrival of early summer. From November to May, it is prohibited to fish natural ayu due to resource conservation purposes. When early summer arrives, young ayu can be seen in the market. July is the season to enjoy its best taste. Young ayu is soft up to the bone, and fresh ones are often enjoyed with cooking methods that allow it to be eaten whole without gutting the fish, such as tempura and kanroni recipes. Raw young ayu has a unique smell that is similar to cucurbitaceae vegetables such as cucumber, melon, or watermelon. This time, enjoy the young ayu dish with cucumber and melon, ingredients that complement the unique scent of ayu.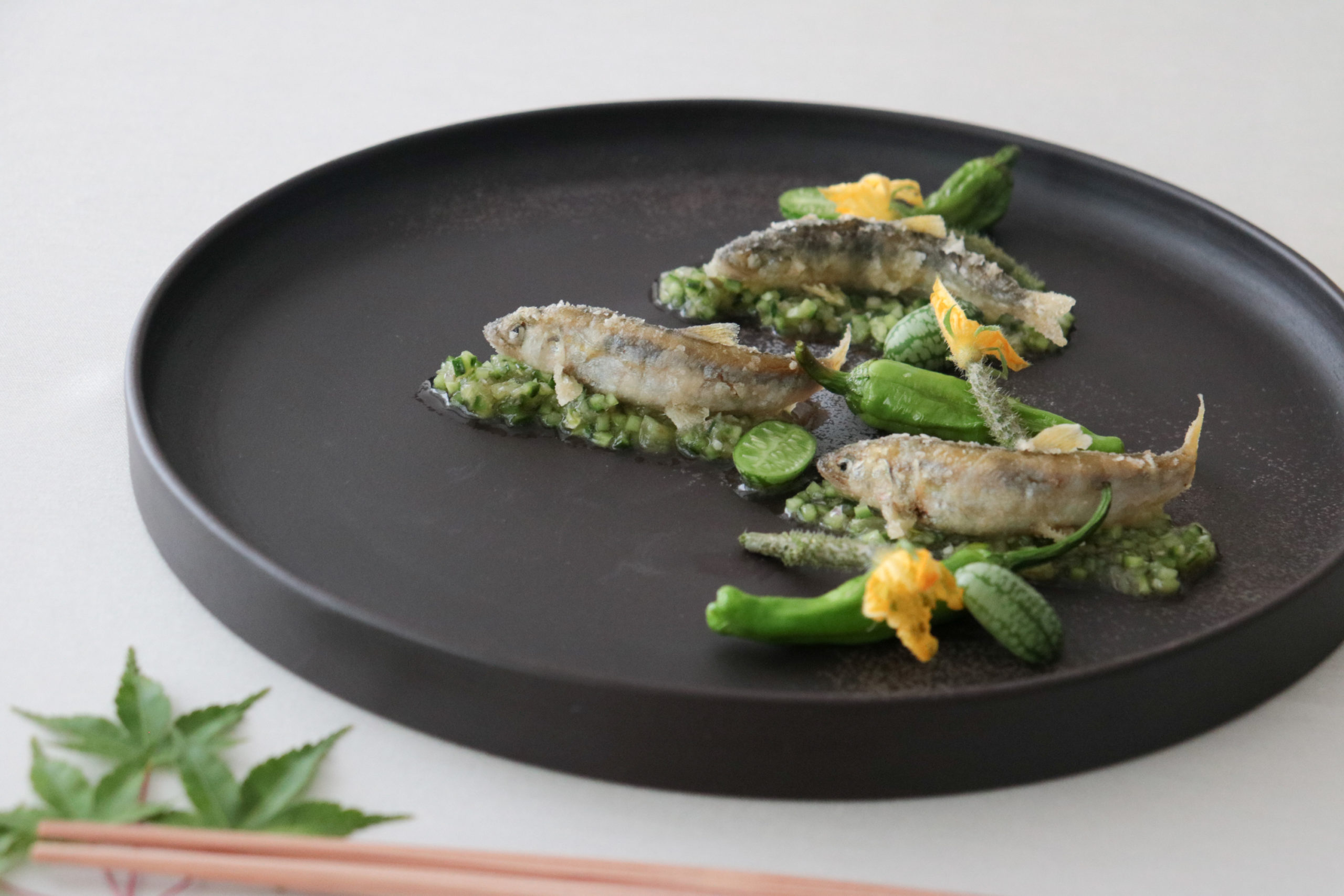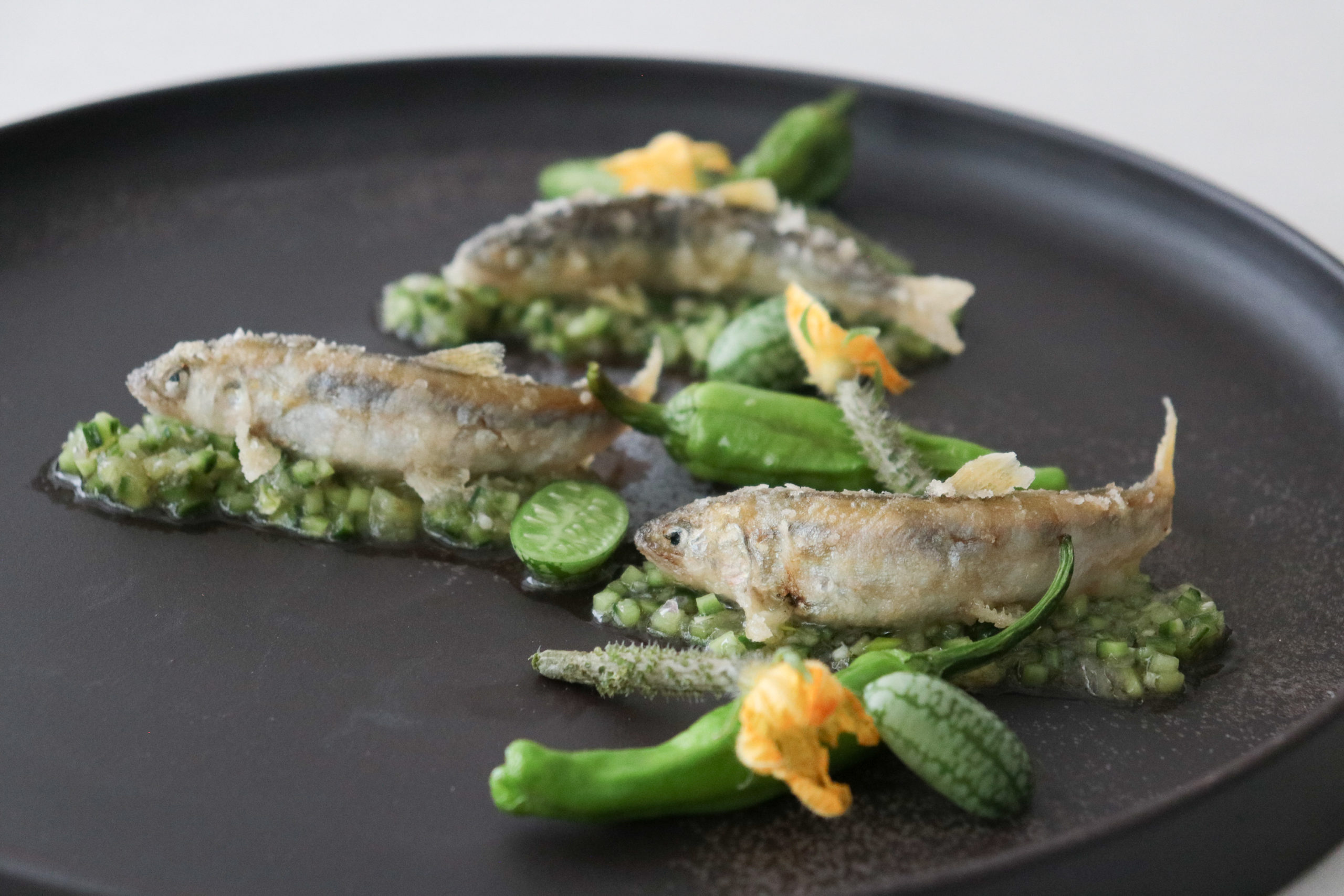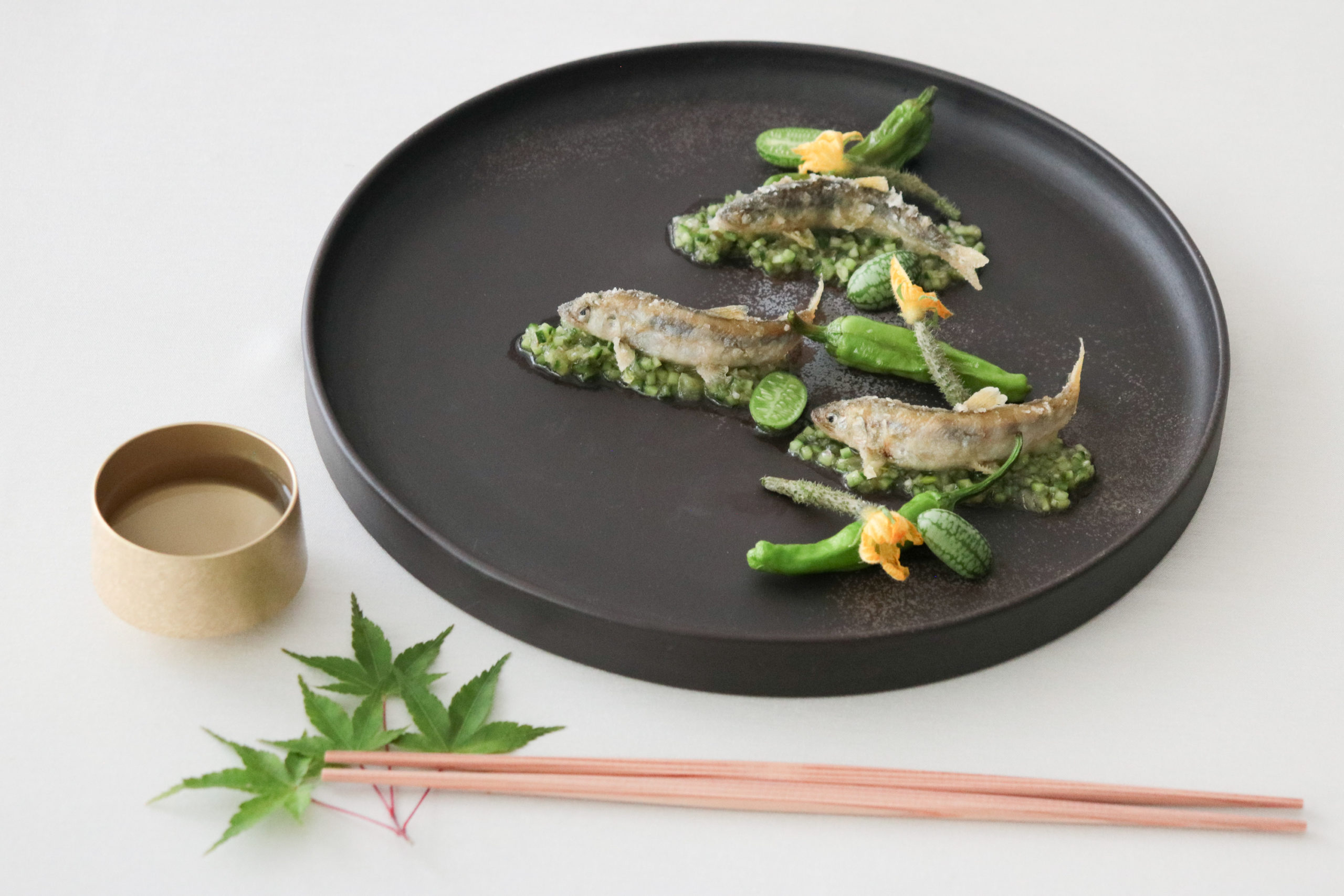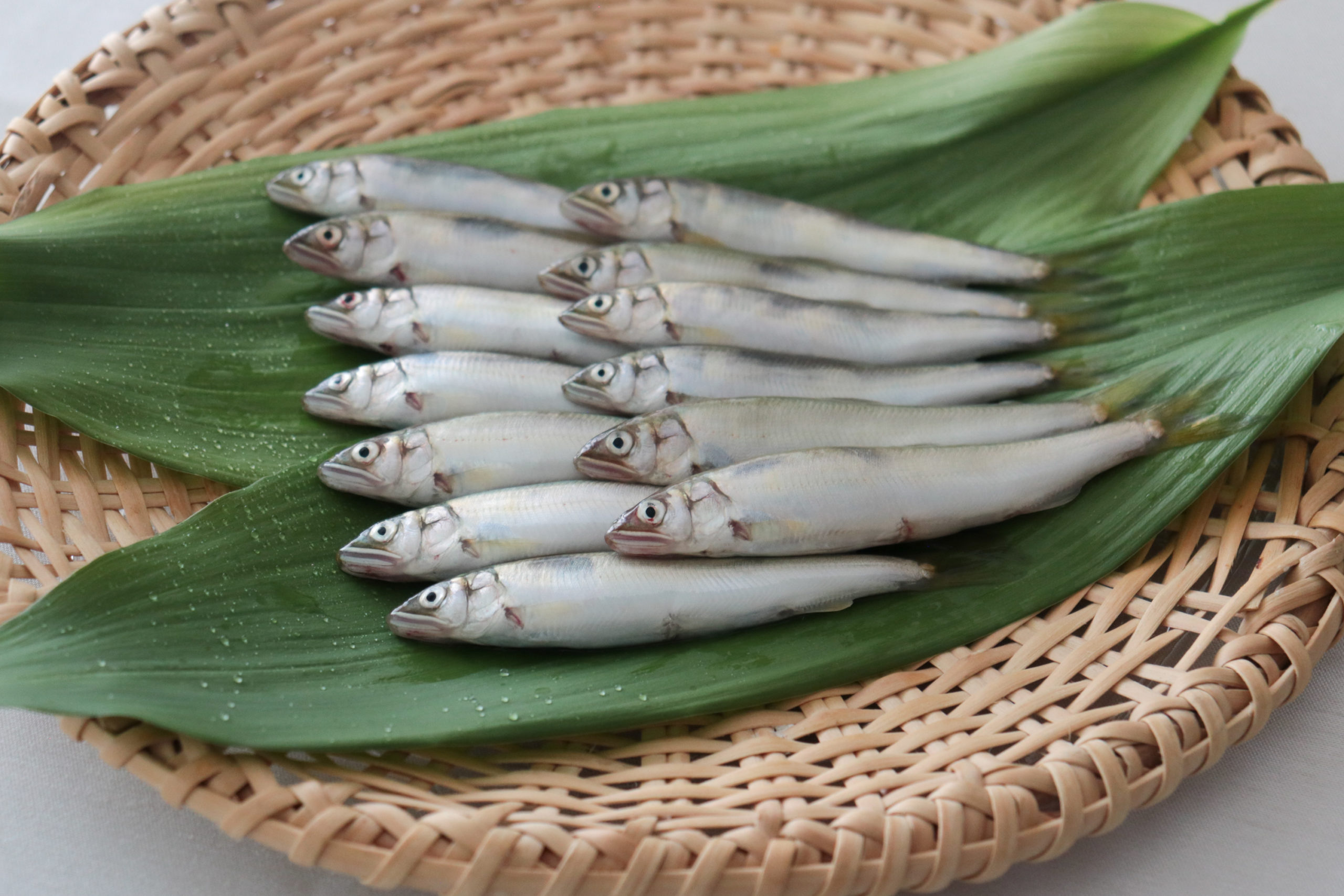 Dessert
Kawachi-bankan pomelo jelly
For the end of this summer course, sweet and sour Kawachi-bankan jelly is refreshing. Kawachi Bankan is a large, yellow citrus that can be harvested from early-summer to summer. It looks and feels similar in size to grapefruits. However, unlike grapefruit, it lacks bitterness and has a sweetness to it that can be enjoyed refreshingly. This time, I chose a turquoise-blue colored tray that is reminiscent of summer, contrasting beautifully with the yellow color of the jelly. The combination of the opposite colors gives a summery look to the dish. Kawachi bankan can be substituted with grapefruit, orange, etc., so please try using your favorite citrus fruits. If you like alcohol, you can enjoy it by adding liqueur such as Cointreau.